International Journal of Bioassays
International Journal of Bioassays [ISSN: 2278-778X] is an Open access, Peer-Reviewed, Multidisciplinary Journal. Int.J.Bioassays publishing full-length original Research Articles (RA), Review Articles (RevArt), Short Communications (SC), Case Studies (CS) and Letters To Editor (LTE) in the areas of Biological, Chemical, Pharmaceutical and Medical Sciences. All manuscript submissions will be subjected to Peer-Review by experts in the field. Manuscripts with high quality will be published without delay.
Highlights in Publishing with Int.J.Bioassays:
Assigning DOI, CrossRef (USA) to all its published articles.
Precise review process which is fair, constructive, and provided in a timely manner.
High visibility (OpenAccess) and Full text availability of published articles in PDF.
Manuscript Submissions:
Authors can submit their manuscript/s prepared in
MS Word
(2003, 2007 and 2010) including Tables and Figures (If Any) at appropriate positions, can be submitted through
Online Manuscript Submission System
or
Latest IC Value 2016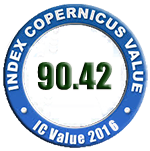 Volume 7, Issue 5 (2018)
Table of Contents
Research Article
Okhale SE, Ugbabe GE, Oladosu PO, Ib-rahim JA, Egharevba HO, Kunle OF, Elisha EP, Chibuike AJ, Ettah UO

http://dx.doi.org/10.21746/ijbio.2018.7.5.1
Research Article
Oluwatosin E. Ayegbusi, Omolara T. Aladesanmi, Oluwasaanu E. Kosemani, Oluwatosin A. Adewusi

http://dx.doi.org/10.21746/ijbio.2018.7.5.2
Research Article
Nashwa M.H. Rizk, Mohamed E. Goher, Ayman S. Eldourghamy, Wael M. Aboulthana, Yaser Hagag

http://dx.doi.org/10.21746/ijbio.2018.7.5.3
International Journal of Bioassays is a member of the Publishers International Linking Association, Inc. (PILA), CROSSREF and CROSSMARK (USA). Digital Object Identifier (DOI) will be assigned to all its published content.